Mar. 02, 2023
Professional Chevron flooring Manufacturer|Trioflor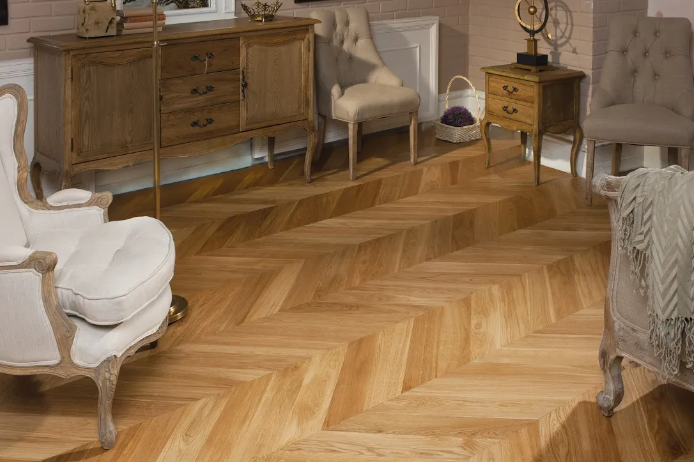 "Chevron" refers to the laying method of the flooring, which looks like fish bones, hence the name. Now Chevron is popular in all countries around the world, especially in Europe, American and so on. At the same time, it has also begun to rise quietly in the global decoration market. With the increasing demand of chevron flooring, it is critical for those flooring dealer, contractors and large scale supermarket to cooperate with a professional and reliable manufacturer as the strong backing.
In details, the flooring needs to be cut at 45° or 60°, and then spliced in a "V" shape. Trimming is also required at the beginning and end of the flooring, and installation is much more cumbersome than herringbone flooring. Due to the special rectangle of SPC Chevron flooring, its production and installation has higher requirement for the flooring manufacturer.
Professional Chevron flooring Manufacturer- Trioflor
Trioflor is the first batch of manufacturers who have successfully developed and introduced spc chevron into the market. The professional vinyl flooring manufacturer's business covers integrating production, research and sales. The advanced production craft and thoughtful service make it become the reliable backing for many well-known brands in Europe, WalMart, Gerflor, Moland, etc.
Exclusive Chevron Production Technology
Our newly launched product, spc chevron, is well received in the European market. It is different from ordinary spc flooring. It is an upgraded version of spc. It has its own unique characteristics while inheriting all the advantages of SPC. First of all, the appearance is completely different from SPC, it is a parallelogram, and secondly, its assembly method is different. The fashion sense of chevron stitching is more often aristocratic. The 45° or 60° on both sides of the floor makes the space full of three-dimensionality. This splicing effect can create visual effects that other floors cannot achieve.
The Advantages of Trioflor Chevron Flooring
1. Real fishbone design, more beautiful installation scene.
2. The angles of the four corners of the flooring can be customized.
3. Painted V groove.
4. EIR embossing, more realistic touch.
5. 5Gi lock design, easier to install.
6. Adjustable angle of shape, available in degrees ranging from 45 and 60"
7. Oiled chamfering, the installation has a stronger three-dimensional sense and is more beautiful.
8. The AB version is packaged separately to avoid installation confusion and reduce pattern repetition
9. Support custom colors, unique colors and designs become the biggest highlight
Supporting Customized Services
With the help of Trioflor, you can create your own unique package box, marketing tools and a special color pattern:
l Customized package box
l Customized the marketing tools, like catalog, sample swatch and display board
l Customized your own special color pattern which is made from original wood
What's more, we will also help you to get your own certificate, such as Green Label, Floor score and so on.
Beside of that, Trioflor also has thoughtful skill back for our customers:
l Installation guidance
l Free samples
l After-sales service
If you want to know more information about chevron flooring or Trioflor, welcome to contact us, please visit our website at https://www.trioflor.net/ . We will be happy to help you out!