Chevron SPC click flooring, the innovative vinyl flooring and brand-new shapes bring more changes and imagination to the installation effect of the floor.
The V-shaped design makes your life more beautiful and has a sense of design.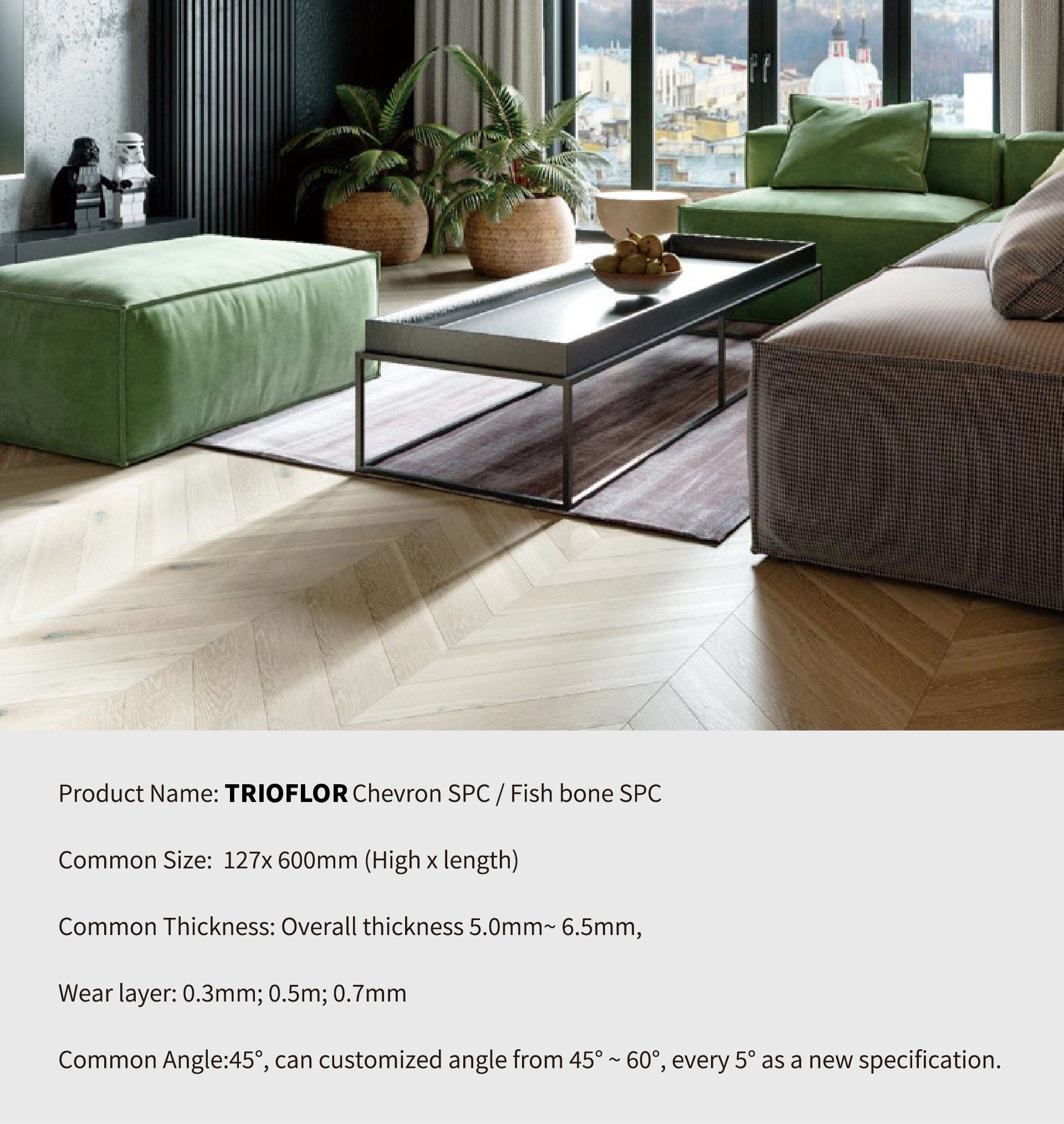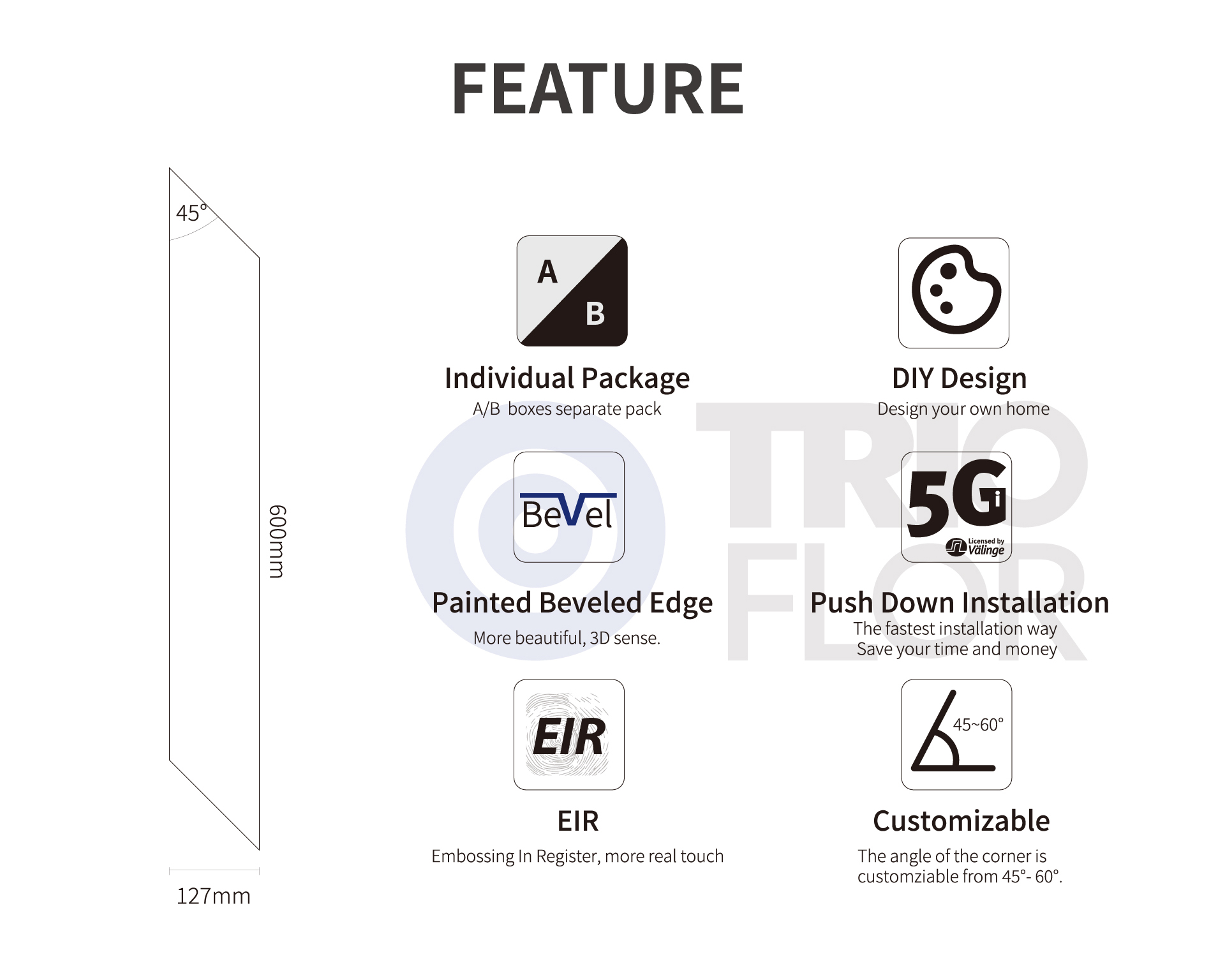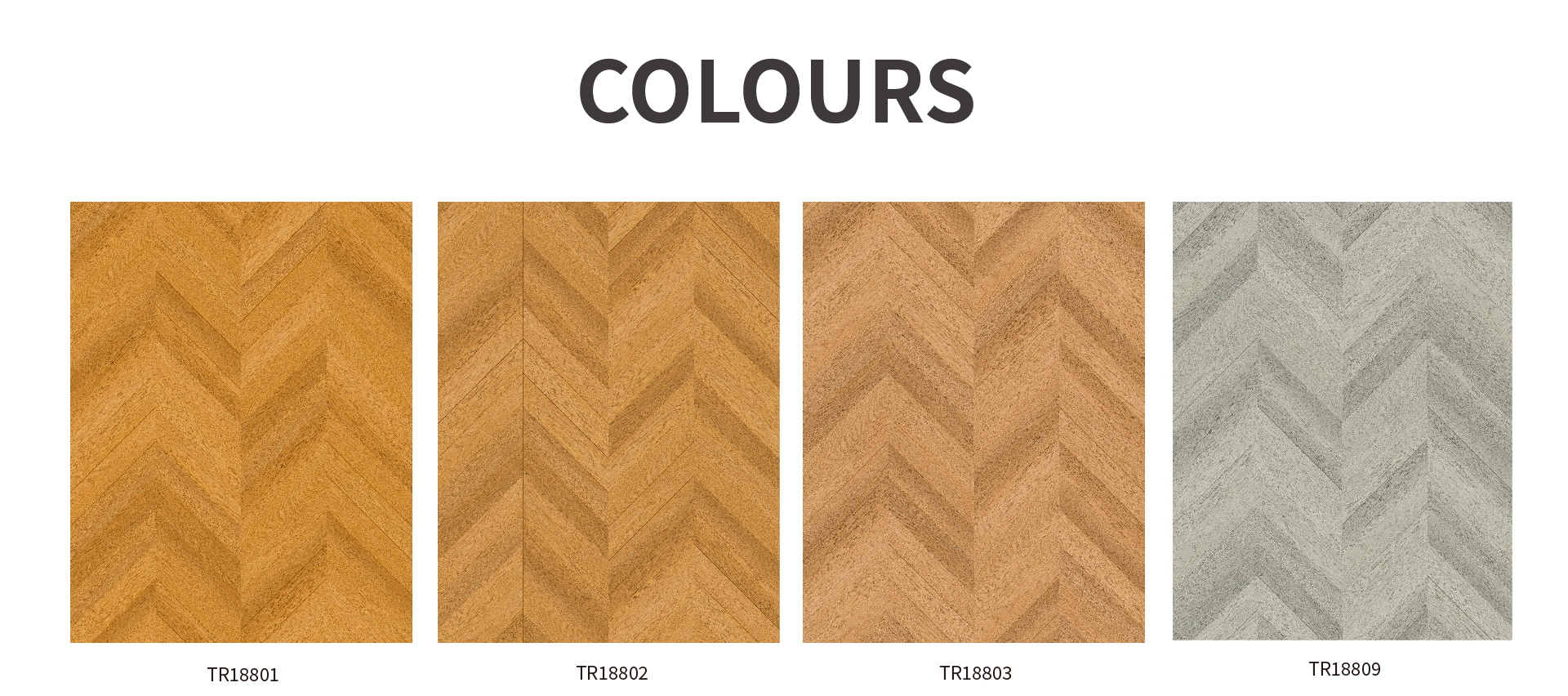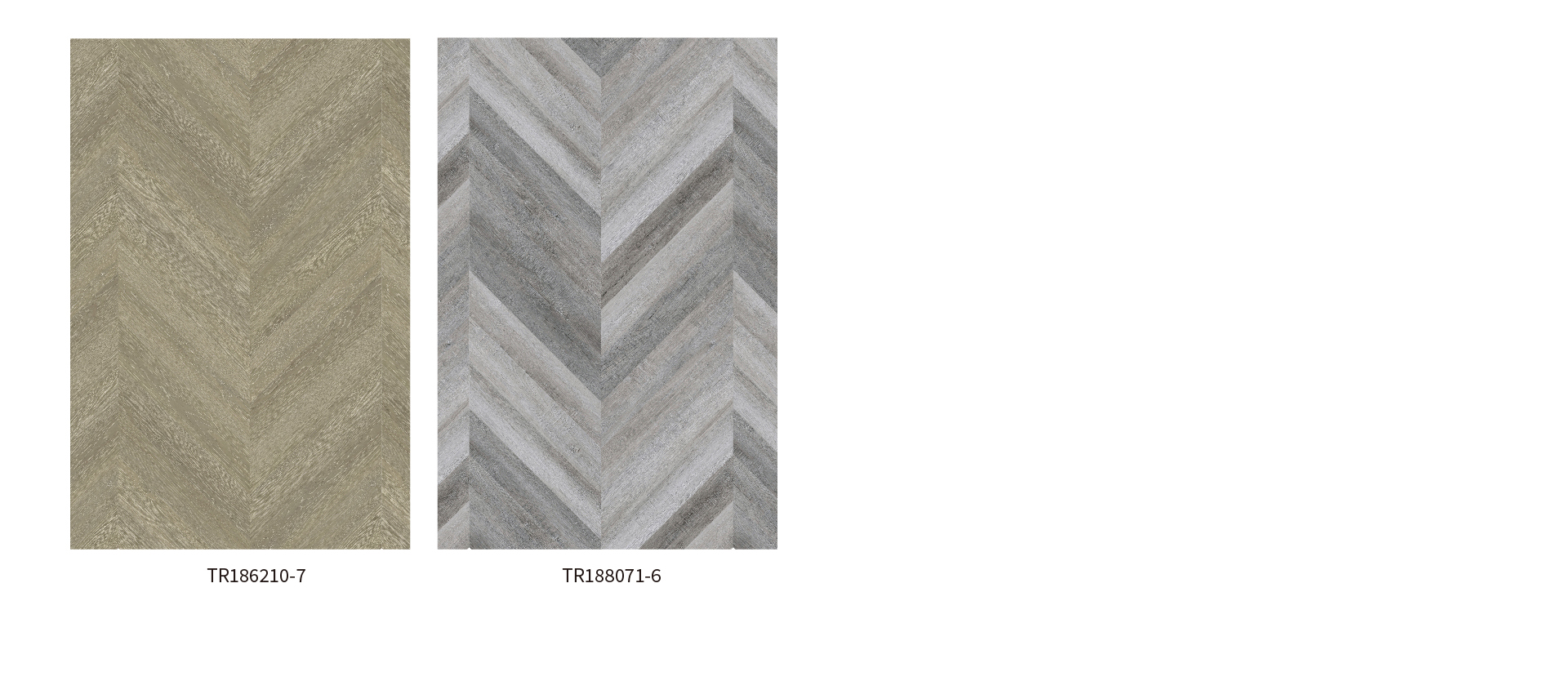 ---
Leading Manufacturer and Exporter of Chevron SPC click flooring
GET Free Sample Request A Free Quote Today
As an chevron SPC flooring manufacturer, we take pride in our customized styles, design services, as well as high quality and environmentally friendly SPC flooring. With advanced production equipment and a professional technical team, we can provide highly customized flooring design and manufacturing services (OEM/ODM) to our clients. No matter whether you need a special color, texture, or size, we can meet your requirements and create a unique floor to meet your personalized needs.
Whether you are building a own brand floor or a distributor, we can provide you with OEM floor solutions. Thank you for your attention and support to our company. We look forward to working with you!
What is chevron SPC flooring?
The SPC Chevron floorIing is not a common rectangle, but a parallelogram, which must be distinguished from the herringbone flooring. Before production or installation, it needs to be cut at 45° or 60°, and then spliced in a V shape. Trimming is also required at the beginning and end of the flooring, and installation is much more cumbersome than herringbone flooring.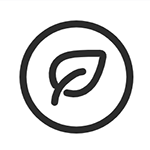 Green and healthy- zero formaldehyde, releasing air negative ions, absorbing radiation, anti-static, antibacterial, moth-proof, acid and alkali resistant, and pollution-free. DIAMOND surface treatment is effective in presenting Grape globular bacteria, Escherichia and fungi, etc.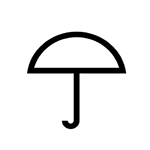 Professional waterproof performance, can be soaked in water for a long time or washed with water every day, will not be moldy, deformed or aged, and the water expansion rate is close to 0.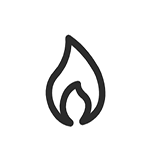 Fast heat conduction - The special material makes the microcrystalline wood floor have excellent thermal conductivity, small thermal expansion coefficient and fast heat conduction. It is the perfect partner for geothermal installation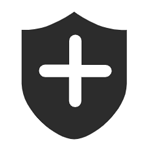 Moisture-proof and non-slip - no water vapor condensation on the surface, no matter how humid the climate is or how big the temperature difference is.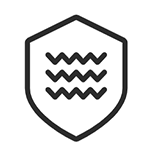 Abrasion resistance - With fortifier in wear layer, abrasion coefficient of our wear layer is 1500R more than regular wear layer of same thickness from other suppliers.The surface wear resistance is excellent, and the number of wear resistance is much higher than that of solid wood and solid wood multi-layer flooring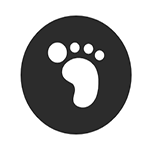 Comfortable touch, abandoning the cold feeling of ceramic tiles, and having the real texture characteristics of solid wood, which is convenient for unified style design and paving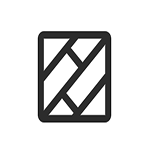 The paving is easy, no wooden keel and nails are needed, easy to disassemble, easy to scrub and maintain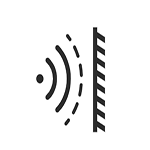 Sound-tec - Dual purpose foam underlayment knocks down sound transfer between levels of the home while also providing comfort to live on.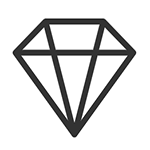 Anti-scratch, pet-free - With fortifier in UM our DIAMOND surface treatment performs better in anti-scratch function.


What size we can provide of SPC flooring
Product Name: TRIOFLOR Chevron SPC / Fish bone SPC
Common Size: 127x 600mm (High x length)
Common Thickness: Overall thickness 5.0mm~ 6.5mm,
Wear layer: 0.3mm; 0.5m; 0.7mm
Common Angle: 45°, can customized angle from 45° ~ 60°, every 5° as a new specification.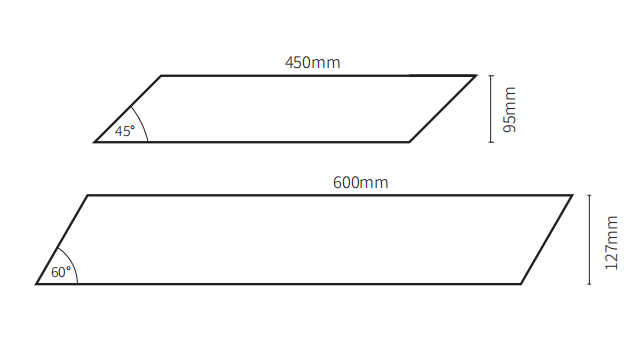 What thickness of SPC flooring can we provide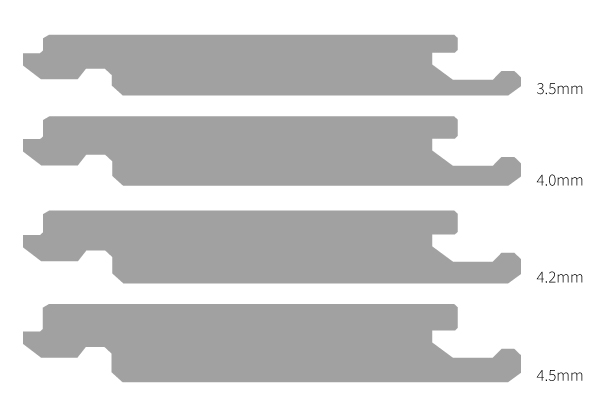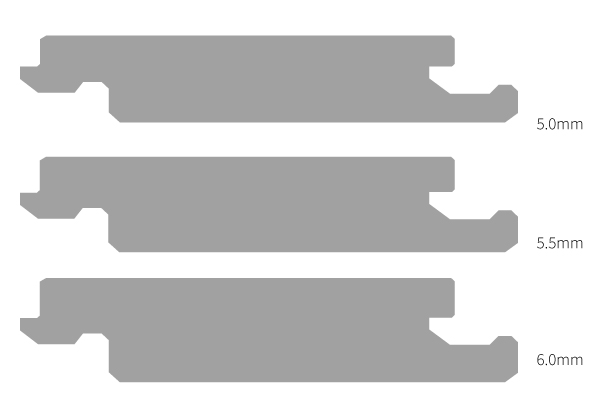 Pattern Trioflor Provide
| | | | | | |
| --- | --- | --- | --- | --- | --- |
| | | | | | |
| TR18801 | TR18803 | TR18806 | TR18807 | TR18808 | TR18809 |
Application Trioflor Apply
| | | | |
| --- | --- | --- | --- |
| | | | |
| spc commercial flooring | spc living room flooring | spc bathroom flooring | spc kitchen flooring |
Certificate Trioflor Approved
We have all certificates required in EU and US, such as: ISO9001, ISO14001, DIBIT certification, REACH, BSCI Certificate, CE certificate, all test reports from SGS lab and Audit Reports.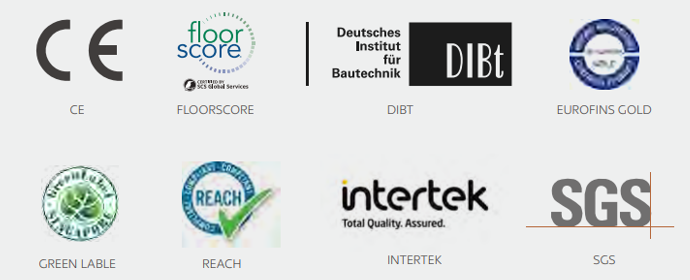 FAQ of Trioflor
1. Are you a factory or manufacturer? What's your capacity?
Yes, we have two factories located in Jangsu and Shandong. We can produce 300-400 containers SPC per month, 200-300 containers LVT per month, 50-100 contaienrs MGO per month.
2. How do you guarantee the quality of your products?
We use 100% virgin material and each step is strictly controlled by the QC team to make sure all our products turn out great
3. How about the delivery time?
Lead time of first order is 30-35 days since receipt of 30% T/T deposit payment for container order(Free Samples will be prepared within 5 days). The regular order could be finished within 20-25 days.
4. Do you offer other products besides PVC vinyl floor?
Yes! We can also provide other different floor types,such as MGO, Mineral core flooring, Rigid core timber, self-adhesive, quartz sand tile, roll floor etc.
And floor accessories: adhesive, skirting, underlay etc.
5. Do you charge for the samples?
According to our company policy, free samples provided, but the freight charges collected by customers
6. What is your payment terms?
30% deposit and 70% upon the copy of B/L. We are flexible for VIP clients.
7. Do you provide OEM service?
Yes, we provide flooring with private label, customized flooring design, size and carton, we also can help you to design the carton, sample swatch to help your sales.
8. Can you help to design a color film based on our requirements?
Yes, we can customize the color design which is unique.
9. How do I properly clean and maintain my SPC/LVT/ESPC/MGO flooring?
To clean dirt that won't come up with a sweep or vacuum, use a non-rinsing cleaner that leaves no film and a mop. Never use an abrasive cleaner, oil cleaner, or dish detergent.
10. How to distinguish Chevron VS Herringbone correctly
Although Herringbone and Chevron floor are two styles of parquetry, they're both very different flooring designs.