REINFORCED MINERAL CORE FLOORING
THE NEXT GENERATION OF HYBRID FLOORING
TRIOFLOR MINERAL CORE flooring is a revolutionary break through of regular laminated flooring, the main content are natural wood fibers and Magnesium Oxide which delivers Extreme Stability, Super Fire-proof, Completely Water-proof,Indentation Resistance, Scratch Resistance and Durability, while Reducing Sound Transmission.Designed with Valinge 2G-2G FD locking edges, installation is quick and easy saving installation time and labor costs.
TRIOFLOR MINERAL CORE flooring offers value and performance through its innovative Diamond Core technology. Thelow maintenance high performing Diamond Core finish layer is resistant to scratching, scuffing and burning cigarette.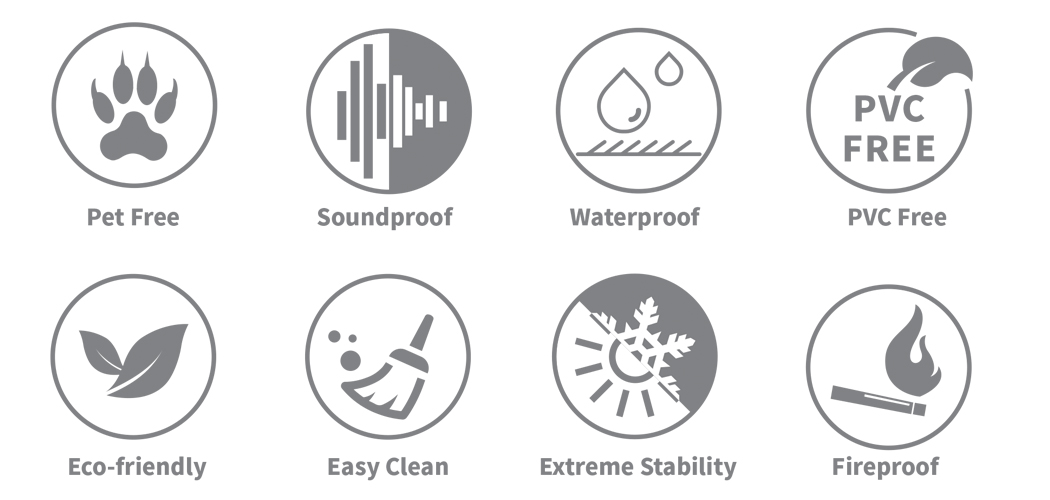 REINFORCED MINERAL CORE
Introducing an innovative reinforced mineral core that contains no plastic.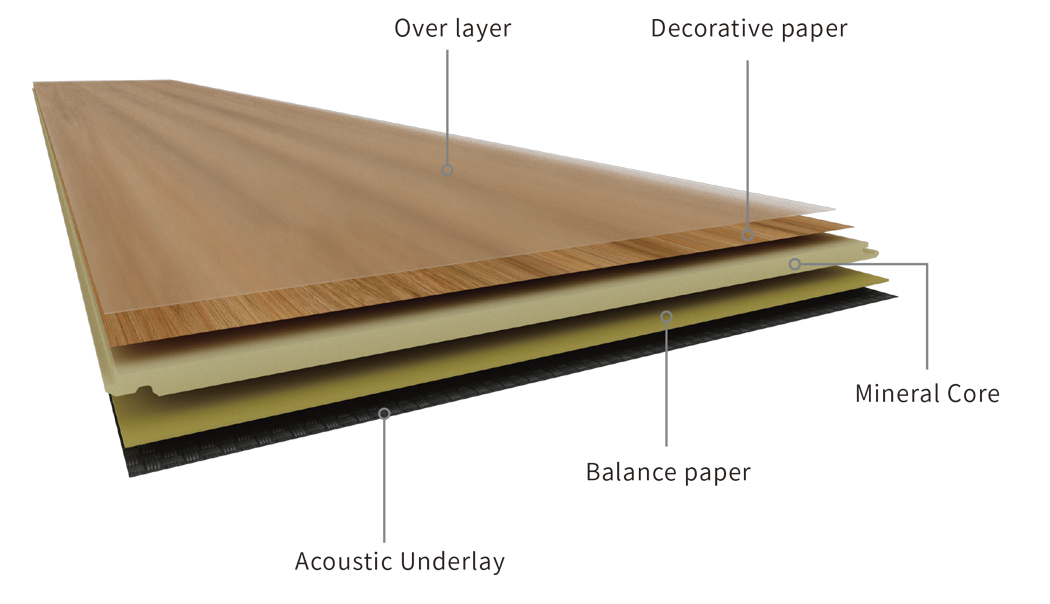 PET FREE

More than 6 in 10 of all households have a pet, but they can be tough on floors.One of the biggest issues with pets and floors is scratching, especially if you don't keep nails trimmed. Even pets that don't actively scratch floors can still leave their mark just by walking, running or jumping around.

But don't fret, we have good news: Even with a scratchy, furry, acci-dent-prone pet at home, it can still be possible to have beautiful floors. You just need to find the right type!

MINERAL CORE Flooring create a durable, comfortable and safe envi-ronment for your family.

Waterproof

MINERAL CORE Flooring from TRIOFLOR provides the look of real wood flooring without the worry of damage or staining from water and moisture and counteracts the accidents that happen in our busy lives. MGO flooring is not just water resistant flooring ? it's 100% waterproof flooring for any room in your home.

Soundproof

Trioflor provides a simple solution. By implementing DIY sound dampening measures and fine-tuning your home's acoustics, everyone can do their own thing without getting in each other's way.

Extreme Stability

Mineral powder is added to the product to ensure that the floor has a higher stability, to improve resistance to changes in temperature.
Technical Data
TRIOFLOR
Mineral Core Board
ITEM
Testing Method
Unit
MgO
SiO(Hign density)
SiO(Low density)
Length
EN427
mm
1215mm
1225mm
1225mm
Width
EN427
mm
195mm
193mm
193mm
Overall Thickness
EN428
mm
8.2mm
6mm / 8mm
6mm /8mm
Density
-
g/cm3
1.44g/cm3
1.3g/cm3
0.9g/cm3
Aperture between two planks


mm
≤0.1mm
≤0.1mm
≤0.1mm
Straightness
EN427
mm
≤0.2mm
≤ 0.04mm
≤ 0.04mm
Squareness
EN427
mm
≤0.15mm
≤ 0.04mm
≤ 0.04mm
Curling after exposure to heat
EN434
mm
≤0.5mm
(80℃6h)
≤0.06mm
(80℃6h)
≤0.1mm
(80℃6h)
Dimensional stability after exposure to heat (%)
EN434
-
≤0.1% (80℃6h)
0
0
Surface Bonding
EN 311:2002
MPa
1.52
1.65
1.5
Thickness Swelling
ISO 24336:2005


1.60%
0.03%
0.05%
Effect of castor chair
EN425
-
No disturbance
No disturbance
No disturbance
Abrasion Resistance
EN 13329
-
AC3/AC4
AC3/AC4
AC3/AC4
Scratch-resistant
EN 438
-
Level 4
Level 4
Level 4
Click tensile strength
· Electronic tension tester
-
2G/240N/5cm
2G/240N/5cm
2G/240N/5cm
Staining resistance
EN 438-2


Category 1+2: level 5
Category 3: level 4/5
Category 1+2: level 5
Category 3: level 4/5
Category 1+2: level 5
Category 3: level 4/5
Slip resistance on an inclined plane
DIN 51130


R9
R9
R9
Residual Indentation
EN433
mm
≤0.03mm
0.01mm
0.01mm
Color Fastness/Grade
ISO20105-B02
Degree
≥6 Degree
≥6 Degree
≥6 Degree
Fire Rating
EN13501-1


Class A2 fl -s1, d0
Class A2 fl -s1, d0
Class A2 fl -s1, d0
Cigarette resistance
EN 438-2


Level 4
Level 4
Level 4
European Cliassification
EN 685
-
23-33-42
23-33-42
23-33-42
Underfloor heating
-
-
suitable
suitable
suitable
Formaldehyde emission
EN 717-1


0
0
0
Heavy Metal
EN 71-3:2019


0
0
0
TOVC after 28 days
ISO 16000-6
μg/m3
<10 μg/m3
<10 μg/m3
<10 μg/m3