Feb. 02, 2023
Although Herringbone and Chevron floor are two styles of parquetry, they're both very different flooring designs.
---
Chevron flooring
Chevron flooring is a design style that consists of alternating straight and diagonal stripes. The term "chevron" refers to the chevrons used for military uniforms, which was popularised by French emperor Napoleon Bonaparte. Chevron patterns are often seen in modern residences as well as various other commercial spaces like restaurants and stores.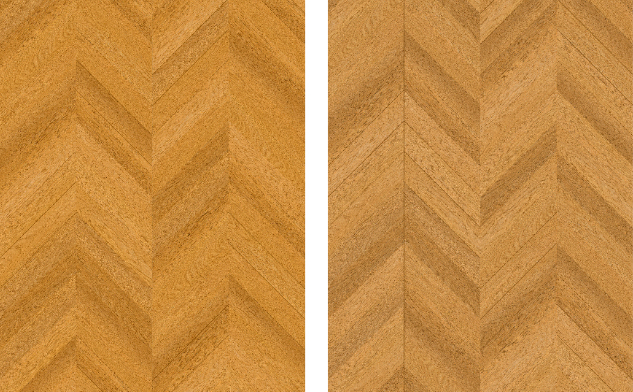 BENEFITS OF CHEVRON FLOORING
Chevron timber floors offer a range of design benefits to residential and commercial projects. Here are a few to help you decide if your space would benefit from this flooring style.
CHEVRON FLOORING LOOKS GREAT
With a classic aesthetic, Chevron enables your space to enjoy a warm and natural appeal.
CHEVRON FLOORING CREATES MOVEMENT
The unique "V" shaped arrowed Chevron pattern creates a sense of movement bringing your space to life.
CHEVRON FLOORING IS VERSATILE
Chevron is a versatile flooring pattern that works well in both smaller and larger spaces.
CHEVRON IS COST-EFFECTIVE
Whether you choose solid or engineered timber, Chevron floors are now available to home and business owners at a great price. If you want see any of our Chevron products in your home or business simply request a free sample.
Pattern of a chevron floor
A chevron vinyl flooring features a continuous zig-zag pattern, unlike a herringbone floor. The chevron vinyl flooring is perhaps a more modern choice, with geometric patterns continuously popular in high-end, modern homes. Continuous 'v' shapes are what make a chevron vinyl flooring so distinctive. You can create a variety of effects because of this pattern, from stripes to arrows. Thevinyl pieces that create a chevron vinyl floor are cut at an angle and this is another critical difference between a chevron and herringbone vinyl floor.
A chevron pattern has pieces of vinyl set at a 45-degree angle, unlike a herringbone floor where the planks form 90-degree angles with each other. The ends of two planks of vinyl of equal size are cut on an angle and the ends of the vinyl planks are cut at an angle too. When the floor is expertly installed, the two planks are fitted together to create a point. This means that the zig-zag pattern goes along the surface. Chevron patterns are not only seen on floors: you can complement your chevron vinyl floor with chevron patterned cushions, artwork and lampshades.
Herringbone Floor
Herringbone is a parquet floor with its vinyl strips laid in an alternating direction. The resulting pattern looks like the spine of the herring fish, which is why it's called herringbone! This design was popularised by French cabinet makers in the 18th century and has been used for everything from carpets to jewellery ever since.
BENEFITS OF HERRINGBONE FLOORING
We know Herringbone offers a timeless option to any room but it also has many benefits which we've outlined below.
COST-EFFECTIVENESS OF HERRINGBONE FLOORING
Herringbone floors are a luxurious flooring option that you can afford to install in your home or business. Thanks to modern manufacturing, this beautiful flooring is now available at an affordable price.
HERRINGBONE OFFERS BOTH STRENGTH AND DURABILITY
With the way Herringbone blocks are fitted and laid, your timber floor will be stronger, which means you'll have longer-lasting vinyl flooring for decades to come.
THE VERSATILITY OF HERRINGBONE
The warm, classic aesthetic of Herringbone parquetry makes it a versatile flooring choice. With its natural beauty and genuine warmth, Herringbone is the perfect talking point for any room in your home or office space.
THE AESTHETIC FEEL OF HERRINGBONE
Herringbone is the perfect addition to any room. As it sweeps up, you will notice how it's intricate design creates a feeling of elegance and sophistication in your space.
Want to see how Herringbone can work in your home or project space? Simply request a free sample of any of our incredible herringbone products.
Pattern of a herringbone vinyl floor
If you are going for a traditional, heritage look, then a herringbone floor is a great option. This floor has a timeless appeal only found in a quality vinyl floor. This instantly recognisable pattern is best in a period property or a grand entranceway. A herringbone vinyl floor is created with rectangular pieces of vinyl arranged to form a zig-zag effect. The solid vinyl planks push against each other to create the herringbone pattern. This means the planks have less tendency to move or expand. For a really stunning herringbone vinyl floor, this Natural French Oak Herringbone Floor is warm and inviting, with a timeless appeal.
---
Differences between chevron and herringbone floors
Though they may look similar and both are variations of parquet flooring, herringbone and chevron vinyl floors are totally different. The shape of the planks is different, as is the pattern and overall effect. Both types of vinyl flooring provide a stunning option for your home, but it is worth understanding the differences so you can choose the perfect floor for you. The main difference between a herringbone and a chevron vinyl floor is the fact that a herringbone floor has a more subtle broken zig-zag pattern. With a chevron vinyl floor, the angles of the vinyl mean they form an exact point.
Herringbone floors use complete rectangular blocks or planks whereas Chevrons' pieces come with the short ends cut at a 45 degree angle.
As a pattern, Chevron is still in style and you'll often see it on clothing, blankets, towels and stationery. The chevron flooring design has undergone a Renaissance because of its effectiveness to create spacious designs for smaller projects while also having an antique personality with a modern-day feel.
The classic design of the Herringbone engineered floor has always been the perfect statement for guests, customers and clients. With its timeless aesthetic value from French chateaus, it brings luxury into any space, which is why Herringbone flooring will be an ideal choice in your home or office renovation project.
Whether you decide a classic herringbone vinyl floor or a modern chevron design vinyl floor, look for quality hvinyl and a finish that you love.
We offer both patterns of Chevron Flooring and Herringbone and we also support customised patterns of flooring.To find out more about flooring, please contact us!