Feb. 13, 2023
Chevron design elements are seen everywhere. Its pattern evokes a sense of the modern, yet it's been around since ancient times. Chevron flooring pattern originated in 17th century France, where it quickly became one of the most preferred types of floors in the palaces of the kings and nobility alike.The chevron pattern is described as a zigzag, but is also seen as an upward "V" pattern. In flooring, chevron can be easily distinguished because flooring planks are traditionally cut at 45 ° angles. Because of this, planks on a chevron design form an exact point.The main difference between chevron and herringbone patterns is that the chevron planks are cut to ensure that each "zig" and "zag" are connected at a 45 degree angle. Our gorgeous Chevron products are made from some of the finest spc materials in the world.
Chevron SPC click flooring, the innovative vinyl flooring and brand-new shapes bring more changes and imagination to the installation effect of the floor. The V-shaped design makes your life more beautiful and has a sense of design.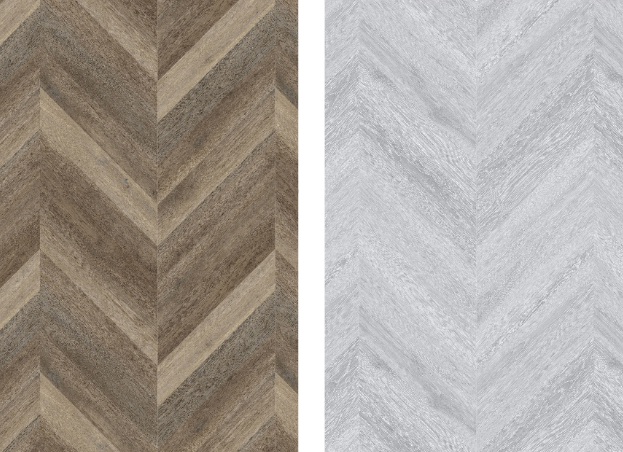 pattern of a chevron floor
A chevron floor features a continuous zig-zag pattern, unlike a herringbone floor. The chevron floor is perhaps a more modern choice, with geometric patterns continuously popular in high-end, modern homes. Continuous 'v' shapes are what make a chevron floor so distinctive. You can create a variety of effects because of this pattern, from stripes to arrows. The wooden pattern pieces that create a chevron floor are cut at an angle and this is another critical difference between a chevron and herringbone floor.
A chevron pattern has pieces of planks set at a 45-degree angle, unlike a herringbone floor where the planks form 90-degree angles with each other. The ends of two planks of equal size are cut on an angle and the ends of the planks are cut at an angle too. When the floor is expertly installed, the two planks are fitted together to create a point. This means that the zig-zag pattern goes along the surface. Chevron patterns are not only seen on floors: you can complement your chevronfloor with chevron patterned cushions, artwork and lampshades.
advantages of a Chevron pattern floor
A Chevron floor immediately adds elegance and a feeling of luxury to any room. The pleasing geometry of the Chevron pattern has great visual appeal and can help a smaller room to seem larger.
Choosing your perfect floor
For a bold and striking look, a smoky style chevron floor creates an amazing first impression. With warm tones and a modern chevron style, this is a great flooring choice. This style floor is a great investment because it will last so long. It will also complement a wide range of interior design schemes so you won't have to replace it if you redecorate
The hottest trend in fashion, design and flooring is ultra-chic chevron flooring. luxury vinyl plank chevron flooring is a great way to add style to your floors
For custom sizes, colors, surface embossings, and finishes, please contact us.