Nov. 09, 2022
SPC vinyl flooring is a very modern product that has gained a strong consensus in the market due to all these features it can offer. It is not only about versatility in terms of decorative use and aesthetics, but also in terms of distinguishing its practicality. The liquid resistance of this vinyl flooring makes it a suitable product for installation in rooms that must be cleaned frequently and quickly. The fact that it is so easy to install, clean and does not require any specific maintenance requirements is actually a feature that is greatly appreciated by users. The resistance and water repellency facilitate faster cleaning, significantly saving time and reducing factors that can damage the floor.
Although SPC flooring is simple and easy to clean, it can still maintain a long life considering some maintenance. So here we give you some SPC flooring maintenance and cleaning tips.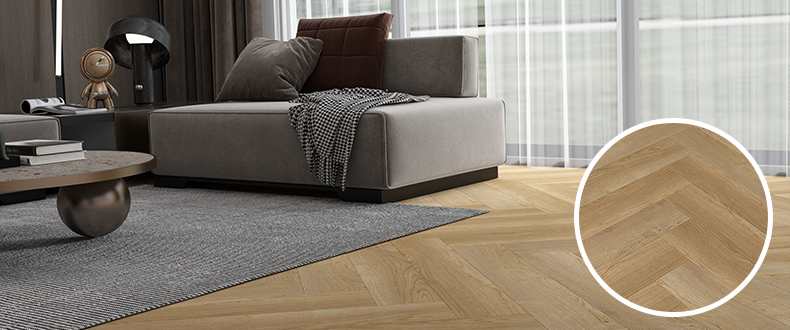 General Maintenance of SPC Vinyl Flooring
Following some simple tips will prevent the formation of dirt and the introduction of elements into the room that could scratch the SPC flooring.
Remember that regular cleaning of the surface will prevent dust build-up and prevent dirt from becoming sticky.
Place rugs or doormats at the entrance to the room to immediately remove sand, stones, residue and any elements that could stain or scratch the floor.
Equipping furniture and chairs with suitable felt pads to be placed under the feet to avoid possible scratches.
The first cleaning immediately after installation to remove any residual dust.
The First Cleaning After the Installation of the Spc Floor
After completing works that can be restored or modernized, it is recommended to clean the environment where this change has occurred, using a bucket of warm water and a mild neutral cleaner. Do not sweep vinyl flooring unless it is completely dry to avoid streaking from dirt.
Regular and Routine Cleaning of SPC Floors
Regular cleaning of SPC flooring takes very little time and can be done with ease. Cleaning the surfaces frequently will help to keep them shiny and beautiful over time. For this purpose, it is recommended that you choose to use.
Remove dust and loose dirt with a vacuum cleaner without clapping your hands
Sweeping up loose dirt with soft bristles
Anti-static cloth applique SPC floor
Spc Flooring Deep Cleaning
For private residential SPC floors with low traffic, wet cleaning at least once a week is recommended; high traffic areas may require more frequent cleaning and maintenance. SPC vinyl flooring is waterproof, but it is best to prevent standing water.
We Recommend That You Follow These Tips for Cleaning SPC Floors.
Remove loose dirt with a vacuum or soft bristle broom before wet cleaning.
Use a damp rag or wet mop for daily care.
Rub lengthwise with respect to the direction of the rod.
Make sure that no water remains on the floor and that it can dry completely in a short time.
You can use a dry mop or dry cloth to remove excess water.
Remove stains with a neutral cleaner and cleaning pad brush, then wipe clean with water.
What Should I Avoid when Cleaning My SPC Vinyl Flooring?
Avoid using brushes that may leave a stain residue
Do not use ammonia products, bleach, chemicals
Avoid using boiling water or steam cleaning tools
As a professional ODM OEM manufacturer in China, Trioflor has been specializing in providing custom SPC flooring for 20 years. For more information about SPC flooring, welcome to contact us. We will be happy to help you out!