Oct. 27, 2022
SPC rigid vinyl flooring Advantage
SPC rigid vinyl flooring, also known as Rigid Vinyl Plank is based on a high tech development of a new environmentally friendly flooring which is 100% formaldehyde free. Unlike laminate flooring, spc rigid vinyl flooring is produced with 100% virgin PVC and extruded the substrate from the extruder with T-die. Then use three or four rollers calendar disposable heating and laminating PVC wear layer, color film and PVC substrate material together. The process is simple, laminating complete according to the heat, GLUE FREE. It is 100% waterproof and is fire resistant. It's very durable, easy maintain and also has a variety of easy installation option(which is same with LVT) to choose from.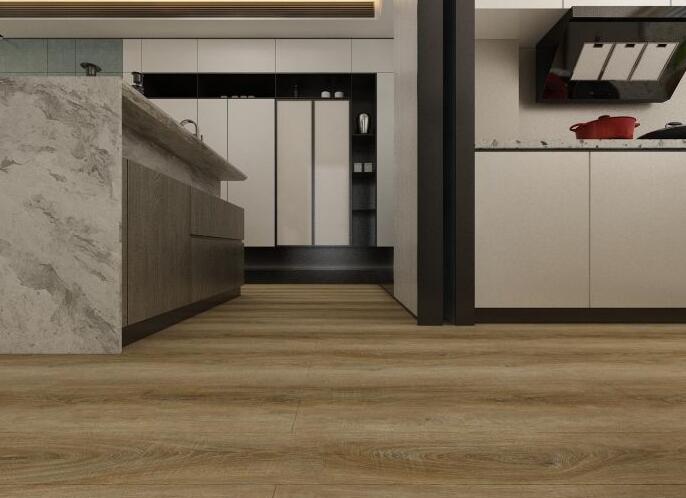 Why is SPC flooring popular in the market?
SPC rigid vinyl flooring is 100% eco friendly because it uses environment friendly formula. It does not contain heavy metals, phthalate, methanol, and other harmful substances. It complies with EN14372, EN649-2011, IEC62321, GB4085-83 standards. It is becoming very popular in Europe, other well developed countries like the United States, as well as the Asia Pacific market. By virtue of its excellent stability and durability, SPC rigid vinyl flooring not only solves the solid wood flooring damp and mold problem but also solves formaldehyde problems. It is economic and also has different color patterns to choose from. Great for home, hotels, hospitals, shopping malls, and buildings.
Safety first for kitchen flooring
With SPC floors, you get an aesthetically pleasing floor, but with less worry. Spills and mishaps can damage the finish or cause dents on wood floors. Likewise, stone floors may be hard surfaces, but they're porous and can stain easily.
Also, consider slips and falls. You don't want to run the risk of slipping in the kitchen while pulling out a roast turkey from the oven. An irregular stone floor or a slick surface may be easier to trip over or slip-on. A floor such as SPC flooring with some texture can help prevent slips and falls.
Comfort is important
You spend a lot of time in your kitchen, cooking, baking, doing dishes, entertaining, etc., so you'll want your kitchen flooring to be comfortable. Concrete floors have been trendy for a while, but it's also very hard, which can strain your back and joints.
With the latest innovations in flooring, you have so much to choose from. Resilient floors, like our SPC floors, give you the best of both worlds: a stylish wood look but added comfort with the underlayment. Its 0.1-0.7mm wear layer is commercial grade and is highly resistant to scratches, and daily wear and tear.
Look for a stain-resistant or waterproof floor
Search for waterproof flooring that gives you the look of wood floors, but without all the hassle. SPC floors are a perfect alternative to wood floors: They're waterproof flooring, so they'll stand up to all of your regular kitchen spills, and they're also stain-resistant, unlike some other flooring options.
SPC flooring is an excellent choice for the kitchen. All of our SPC flooring products are 100-percent waterproof, stain-resistant, and can work well in all types of spaces.
Invest in quality and beauty
Kitchens are one of the most expensive rooms to remodel, but you want your kitchen to look its best. Invest in key materials such as cabinetry and flooring to get the most return on your investment.
SPC floors have come a long way from sheet vinyl origins is ideal for kitchens. With so many options to choose from in luxury SPC flooring, you're sure to find something that blends in well with your design style, that's also durable and easy to install.
Low maintenance
Whether you're tracking in dirt and grime from the garage or the outdoors, the kitchen is a space that gets dirty fast. You want an easy-to-clean kitchen floor with minimal maintenance. Flooring such as SPC flooring for your kitchen that only requires a damp mop cleaning is the easiest kitchen floor to maintain, making it a family-friendly and pet-friendly floor.
As a professional ODM OEM manufacturer in China, Trioflor has been specializing in providing custom SPC flooring for 20 years. For more information about SPC flooring, welcome to contact us. We will be happy to help you out!