Oct. 12, 2022
SPC flooring is the most durable waterproof vinyl flooring option on the market. Comfortable, cost-effective and easy to maintain, it's the best and latest upgrade to engineered vinyl flooring. It also creates a decorative look that almost flawlessly mimics genuine hardwood or stone. Depending on the configuration you choose, SPC flooring can also be super easy to install. This overview provides some of the key benefits of SPC flooring, along with some installation tips to help get you started.
SPC Flooring 101
All engineered vinyl flooring is comprised of different layers of material—usually four. SPC stands for "stone plastic composite" or "stone polymer composite", which refers to the composition of the "core" layer. Made from a mix of natural limestone powder, polyvinyl chloride, and stabilizers, it provides an incredibly stable base for each flooring plank. This means you can install SPC flooring on virtually any subfloor in your home regardless of the amount of traffic it receives. Here's a breakdown of all the SPC flooring layers:
1. Wear Layer: Transparent and durable, this layer provides resistance to scratches and stains and is easy to keep clean.
2. Vinyl Layer: Colours and patterns are printed onto this vinyl layer to create the finished decorative effect of the flooring.
3. SPC Core Layer: Dense and waterproof, this core layer provides rigidity and stability for the plank.
4. Base Layer: Usually made from IXPE or EVA foam, this layer provides underfoot cushioning and sound insulation.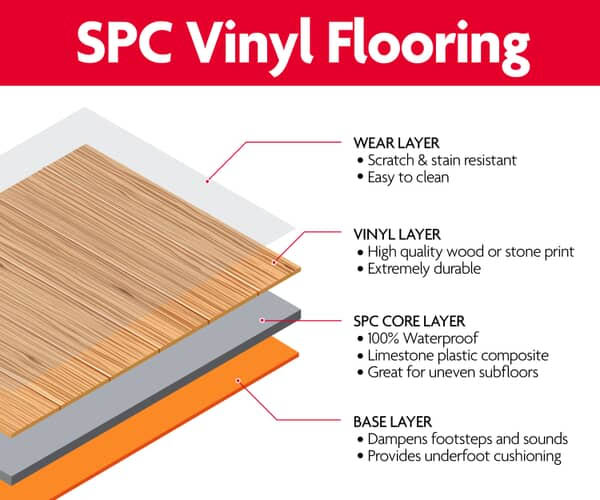 Benefits of SPC Flooring
Waterproof
Perhaps the biggest benefit of SPC flooring is the completely waterproof core. This makes it suitable for areas of your home prone to water and moisture like the laundry rooms, kitchen, and bathrooms.
Appearance
SPC flooring is available in a wide range of colors and patterns. Some styles bear an amazing resemblance to real hardwood, stone, tile, or other types of flooring. With so many options to choose from, it's easy to find a good match for any room in your home.
Durability
SPC flooring is great for busy households with kids and pets because of its incredible resistance to impacts, stains, scratches, and everyday wear and tear. It can also withstand direct exposure to sunlight, resisting the fading, peeling, and cupping that other flooring materials can suffer.
Cost-Effective
The DIY installation option eliminates the need for a professional contractor. SPC flooring is a bit more expensive than standard vinyl flooring, but still far more budget friendly than hardwood and stone.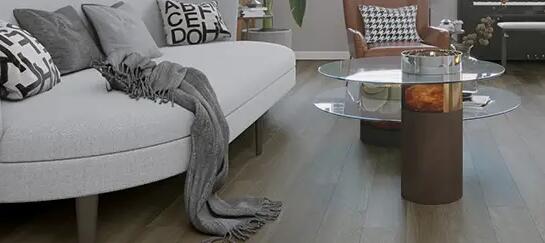 Easy Maintenance
Day-to-day maintenance of an SPC floor is quite minimal. Regular vacuuming, sweeping, and mopping are usually all that's required.
Easy Installation
Depending on the method used, SPC flooring can be very easy to install. In fact, several methods completely eliminate the need for messy adhesives. You also can place SPC planks on top of many different types of subfloors, even if the floor has bumps, ripples or other imperfections.
Comfort
Though thinner than WPC flooring, SPC flooring is still softer underfoot than many other types of floors. Various plank thicknesses are available: choose a thicker option for more cushioning. Unlike standard vinyl flooring, the dense core of SPC flooring also dampens the sound of footsteps, making for a quieter home.
SPC Flooring vs. WPC Flooring
WPC stands for Wood Plastic Composite. Both WPC and SPC are known as Rigid Core flooring: they're tough, waterproof, and available in a wide range of colours and styles. The difference is the core layer. Instead of limestone, WPC uses a hybrid material composed of wood or wood flour and plastic. How does this affect performance? WPC is thicker, which makes it a little softer underfoot and a bit better at absorbing sound. SPC is more compact and denser. This provides greater stability, durability and impact-resistance.
Types of SPC Flooring
1. Click-Lock SPC Plank Flooring
Click-lock SPC planks offer the easiest installation method for first time DIYers. The SPC planks feature a long and short side design so both planks can be clicked together and form a tight grip. Just be sure to start in one corner of the room and work your way outwards. You may need to cut off some extra lengths to achieve the final wall-to-wall layout.
2. Glue-Down SPC Plank Flooring
Glue-down SPC planks are a little more labour-intensive. Depending on the adhesive, you may want to check for concrete moisture or use a moisture barrier to avoid damaging the planks. Similar to click-lock planks, you should start in one corner and work outwards. Avoid using force, clamps, or straps to fit the planks more tightly together as it may cause seam peaking, twisted planks, poor bonding, or misalignment.
3. Loose-Lay SPC Sheet Flooring
This type of SPC flooring is also relatively easy for the DIYer. Here the adhesion method is either double-sided acrylic tape or a rubber backing. So any installation mistakes or subfloor issues can be corrected simply by rolling the flooring back. Also, loose-lay SPC sheets can be laid over non-traditional subfloors like lightweight concrete, chipboard, particleboard and flakeboard. Of course, the big advantage is easy removal because no glue or fasteners were used.
4. Permanent Full Spread SPC Sheet Flooring
Well-suited to new construction projects and areas with heavy traffic, this installation method involves applying permanent, pressure-sensitive adhesive to an SPC sheet. The adhesive needs to dry a little first, and unlike the click-lock and glue-down methods, you don't begin in a corner. Here you start in the centre of the room, using a floor roller to remove trapped air and ensure a secure bond.
5. Releasable SPC Sheet Flooring
As the name suggests, Releasable SPC Sheet Flooring uses a thin layer of non-permanent adhesive so the sheet can be easily removed the next time you decide to change your flooring. The installation is the same as for Permanent Full Spread SPC Sheet Flooring.
How to Choose SPC Flooring
Look for a plank size that best suits your style and the décor of the room. You'll also have options for plank thickness and thickness of the top wear layer. When considering thickness, remember that thicker planks have more durability and stability. Plank thickness typically ranges from 3.2 to 7 millimeters.
A thicker wear layer also offers more protection, with thicknesses ranging from 0.2 to 0.7 millimeters. Now that you have a handle on SPC flooring you're ready to start browsing our wide selection of SPC flooring styles. Keep in mind all the benefits that make it a solid investment, and a practical flooring solution for families with pets and kids. Your design options are almost limitless so it's easy to find a look that suits your style.