May. 13, 2022
When it comes to flooring, many people choose one option: SPC flooring. You should know that this type of flooring is very complex. Not only is it suitable for many places, but it comes in a variety of colors. Therefore, it is a good choice for renovators who will choose it because it is easy to install and very strong and sturdy.
Before renovating and choosing SPC flooring, it is important to understand its structure and how PVC decorative film is applied to SPC flooring. Fortunately, this article is designed to help you understand this. Let's take a look at the structure of SPC flooring and how PVC decorative film is used in this case.
What is SPC vinyl flooring?
SPC flooring is also known as Stone-Plastic Composite Vinyl flooring. In fact, it can be used interchangeably in two meanings, stone-plastic composite or stone-polymer composite, respectively. This refers to the composition of the core. This type of flooring is a luxury vinyl material that has been carefully designed to combine limestone with stabilizers for a very durable core. As a result, the rigid core is virtually indestructible, which is what makes it so unique. The flooring is very durable and can maintain its uniform shape when the subfloor is uneven.
As a result, SPC vinyl flooring can be installed on any floor, which means you can add it to almost any existing subfloor, regardless of traffic volume.
What are the features of SPC flooring?
SPC flooring has some special features. It consists of different layers, each with its own properties. The base material is SPC and the surface material is PVC. usually, it can be 4.2mm, 5.0mm or 6.0mm thick, while the wear layer can be 0.3mm, 0.5mm and 0.7mm thick. In addition, the dimensions of SPC flooring sheets are approximately 1210*170mm or 1220*180mm/7" *48".
One of the features of SPC flooring is the clock-lock joint system. Using clock locking technology, the planks will be able to click together and then lock into place. As a result, the flooring will remain connected and secure. It is different compared to the glued method. Installation is also very simple.
Most importantly, SPC flooring is waterproof, making it suitable for people with pets, as well as business owners or those with areas prone to standing water. So it's amazing for both residential and public environments.
Five-layer SPC flooring
SPC flooring is made up of four layers, each with the amazing features that make this flooring so popular. In some cases, there are five layers, but one of them is optional. Let's take a look at the different layers of SPC flooring and see what they add to each layer:
● Abrasion resistant layer
The Abrasion layer adds at least 25% more hard surface. It is the perfect protection for true colors and embossing. You will be able to tell which layer is the wear layer because it will be the top coat on the floor and is transparent.
The wear layer acts as a shield for the wood panels. Basically, the wear layer will ensure that wear and tear does not affect your floor. Usually, SPC flooring will have a thick wear layer option, so you can get the protection you need. After all, the thicker the layer, the better, because the protection will also increase. Thus, scratch protection and stain resistance are guaranteed.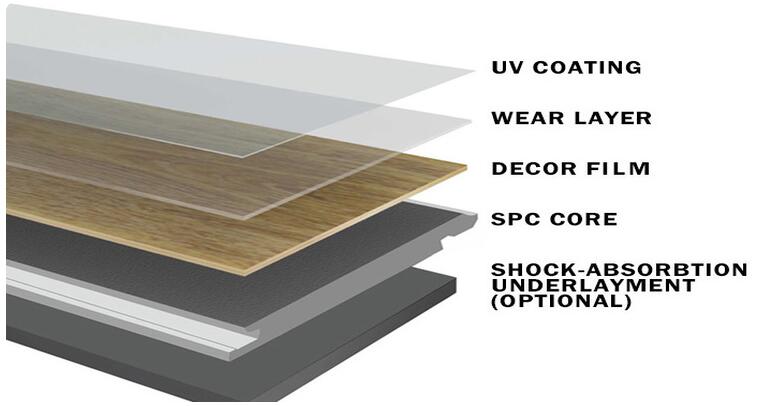 ● SPC core
The SPC core is the core that ensures protection against expansion and contraction due to temperature and humidity. The core is created in such a way that it is not only stable but also waterproof, keeping the floor in good condition. As a result, the core will not swell no matter how much water is present. Even though it makes the floor feel less soft, at least it will be durable, which is amazing.
● Ultraviolet layer
The UV layer is added so there are no worries or costs in terms of maintenance and cleaning. This layer has some great benefits. One of them is stain resistance. You can rest assured that there are no stubborn stains that will ruin the look of your floor. Another is that it is waterproof. If you add flooring in an area that is prone to moisture, then this protective layer can work wonders. It will prevent water from damaging the floor - which is why having this layer is so important.
Most importantly, it adds UV resistance. Because it resists UV rays, the material can withstand the degradation that would occur if it were exposed to sunlight, for example. Without this layer, you could have a floor that fails due to aging.
● Color film
Color film provides the nice aspect you are looking for in your flooring. The look of your flooring will be influenced by this particular layer, as it can have its own patterns and colors. pvc decorative films make it easy to get the perfect design in a room. They can even be developed to your specifications if you have a specific idea in mind.
With colored films, the look will be 100% natural. What makes everything even better is that you can choose from a wide range of patterns. For example, you can choose from natural wood or stone, depending on the design you want to achieve in a specific area.
● Foam or cork (optional)
In some cases, foam or cork is added under the core of SPC flooring. This layer is sometimes included because of the effect it produces. It adds some amazing underfoot feel and also adds some better sound absorption.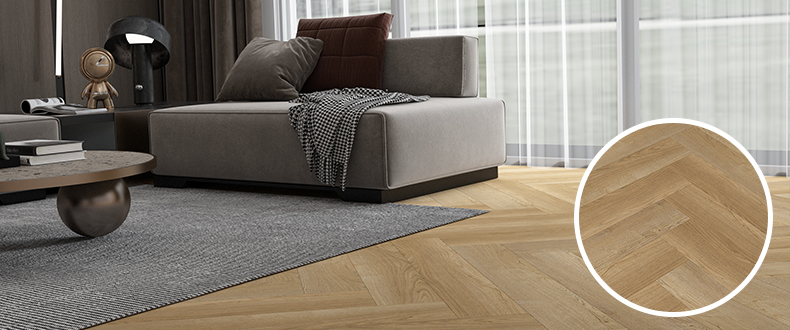 Rigid Core SPC flooring
Why do people choose SPC flooring?
SPC flooring is so hot, there must be a reason for it, right? Well, SPC flooring has many benefits, so whether you want the flooring in your home or your business, there are a range of advantages.
● It provides temperature fluctuation stability
SPC flooring is perfect in the different places where temperature changes are bound to occur. This includes humidity fluctuations or air conditioning units in cabins or houses. The reason for this is that the SPC core adds stability in these conditions - so if you install it, there is no need to worry about temperature changes.
● It's Affordable
The price also makes SPC flooring a great choice for homes and businesses. Generally speaking, flooring is quite affordable, so you don't have to pay through the nose to get it. Of course, the price range depends on the brand, features and other factors. Nonetheless, overall, the prices are still low compared to other materials on the market.
● DIY installation
Easy installation is one of the main advantages and one of the reasons why many people choose SPC flooring. You don't necessarily need an expert to set up this flooring. Use the clock lock installation system to place the flooring in place and make it easy to set up. You don't need any extra tools or any glue to make sure it stays in place, so if you like DIY stuff, then you can install your own flooring.
● Waterproof
The fact that it's waterproof is definitely what makes SPC flooring so popular. Since it is 100% waterproof, it can be installed in multiple areas and locations, whether in your own home or at your business. So even in the bathroom, kitchen, dining room or laundry room, this flooring will provide the protection you need. As a result, water spills will be fearless.
● Amazing design
Not only is this flooring waterproof and easy to install, but it also looks great. spc flooring is also attractive because it comes in a variety of colors and styles, thanks to the PVC decorative film applied to it. With the freedom to choose the pattern you want in a specific area, you're sure to find something that matches the design of the room. Some people don't even believe it's vinyl.
● Quiet
Because the core is so dense, the wood paneling doesn't make any hollow sounds. It's quiet and suitable for any space that needs soundproofing.
● Very comfortable
Compared to traditional vinyl, SPC flooring feels firmer and more cushioned underfoot. This is due to the dense core, and the thickness of the planks. The thicker the planks, the more comfortable the floor will be. In addition, to add some softness, SPC flooring will have some padding attached. If not, you can add some LVT specific padding to the subfloor.
Easy to clean and maintain
Another important reason to install SPC flooring is that it is easy to clean and maintain. You can clean it just like you would with regular vinyl. All you have to do is sweep and mop the floor regularly and the surface will stay clean.
Final Thoughts
SPC flooring is affordable, durable, and looks great. The design is given by a PVC decorative film layer that adds the desired texture, color and style. Best of all, SPC flooring is durable because of its strength and water-resistant properties. All in all, it's easy to see why so many people use SPC flooring in their homes/offices.