Feb. 16, 2022
If you are remodeling your kitchen, SPC flooring offers an impressive array of benefits that may appeal to you.

Here are just a few highlights.
Highly durable
SPC floors are extremely durable due to their multi-layer construction. They can easily be used in most high-traffic areas, providing a firm, stable feel underfoot. While durability varies between products, it's not uncommon for SPC flooring to last for decades.
Waterproof
The unique advantage of these floors is their waterproof design; they will not be damaged even if they are exposed to spills or moisture, making them an especially good choice for kitchens and bathrooms.
Affordable
Admittedly, SPC floors are more expensive than laminate wood and luxury vinyl tile (LVT) floors, but they are still an affordable kitchen option. They offer a similar look and feel to engineered wood flooring, but at a fraction of the price.
Easy to install
You'll also find that SPC floors are fairly easy to install. Like LVT flooring, they are installed using a "click" system. This is very simple to use and allows the planks to snap together for quick installation.
Maintaining these floors is also relatively easy, especially considering the waterproof surface; simply mop the floor when needed to make it look as good as new.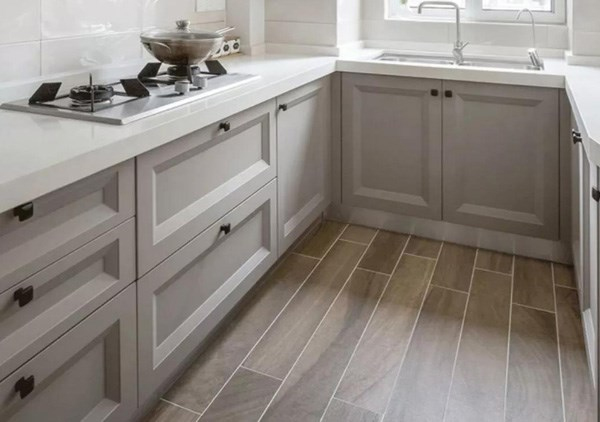 Are there any disadvantages to using SPC flooring in the kitchen?
So, we've covered the benefits of SPC flooring. Now, what about its downfall? As with all types of flooring, SPC flooring does have some potential downsides that you need to be aware of.
Comfort
Most notably, the main weakness of SPC flooring has to do with the level of comfort these floors tend to provide (usually, they are not as comfortable as any kind of flooring), and secondly, they require a flat subfloor to install.
SPC floors have a very sturdy design. This means that they can be very firm underfoot and some people may find them uncomfortable. However, there are ways to increase the comfort of the floor, such as putting down carpet.
However, it's worth considering the lack of comfort, especially if you're looking for flooring for your home kitchen.
Need for a flat subfloor
While SPC floors are easy to install, they do require a completely flat subfloor. You can't just install them over any existing subfloor, as this will add time to the installation process.
Consider how much work you need to do to create a flat or even subfloor. This will give you a good idea of whether laying SPC flooring is a worthwhile option for you.
Hopefully, you now have a better understanding of how to determine if SPC flooring is a good choice for your kitchen. While there are considerable pros and cons to this type of flooring, it is important to consider these different aspects simultaneously in order to make an informed decision.