Jan. 07, 2023
With the rise of new vinyl products entering the market, it can be difficult to determine which type of flooring is best for your project. Traditional luxury vinyl flooring has been the consumer choice for years, but products like spc vinyl flooring are making waves in the industry.
What is LVT floor
Luxury vinyl tiles represent a technical improvement over traditional vinyl flooring. These floors are available in various sizes and can be adapted to various needs by changing the ratio of different stabilizers. Regardless of internal molecular structure, all LVTs are fully customizable to mimic the aesthetics of wood, stone or ceramic. In fact, abstract or custom designs are 100% possible due to the way each plank is layered.
This increasingly popular flooring product is also incredibly durable and durable, withstanding high traffic, weight or heavy loads, water spots and various surface scratches/abrasions. Homeowners recognize the versatility of making their homes look a certain way without worrying about kids damaging their expensive investment. However, offices and other commercial spaces are flocking to LVT because it can provide multiple solutions to many different problems and situations. This is the advantage of high-quality LVT flooring. LVT floors are composed of several thin layers for flexibility, durability and low maintenance.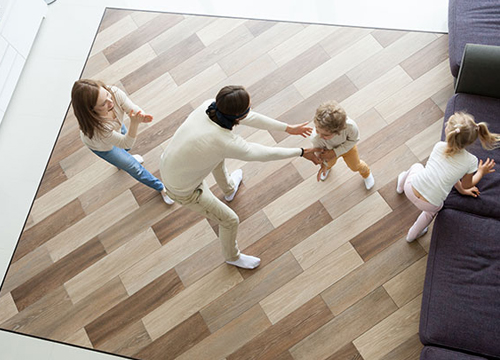 What is SPC floor
Stone-plastic composite flooring can be said to be an upgraded version of LVT. It is also sometimes called rigid flooring, core flooring, or rigid vinyl plank (RVP).
The SPC floor is composed of the following layers: SPC core material, balance section, wear-resistant layer, printing layer, and anti-ultraviolet layer. Ethylene vinyl acetate (EVA), cork, and irradiated cross-linked polyethylene (IXPE) foam are some of the materials that can be used as LVT floor backing materials. In addition to the advantages of LVT, SPC flooring also offers better acoustic properties, higher peel strength, less deformation/warping over time, improved temperature regulation and zero discharge of harmful substances. Best of all, the process of making SPC is completely environmentally friendly as it eliminates many of the traditional contaminants found in another high-end solid flooring.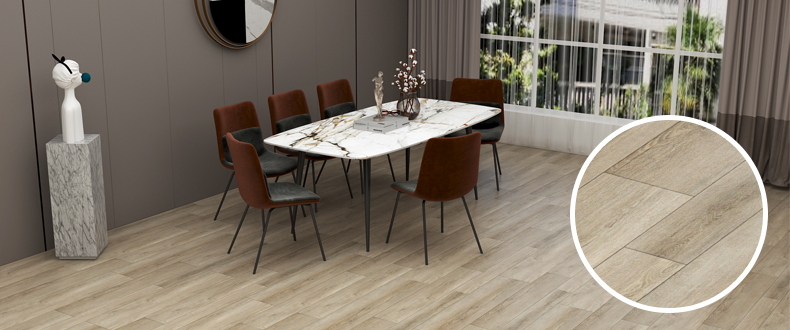 commons between spc flooring and lvt flooring
Both floors are very waterproof and highly resistant to oil and grease.
SPC and LVT floors are identical in terms of aesthetic scope and functionality. Whether you want to emulate a specific look/material or want to place your design/logo on the floor, both SPC and LVT offer an equally wide range of visual options.
Traditional lvt and spc vinyl floors are available in a variety of colours, finishes and plank widths. Traditional vinyls may have a realistic look, but they tend not to be as advanced as spc vinyl.
There is no difference in cleaning/maintenance as both enjoy the simple, easy cleaning and maintenance associated with this type of luxury vinyl flooring. Some regular sweeping and mopping can be enhanced with an occasional deep cleaning to keep any floor looking brand new.
difference between spc flooring and lvt flooring
Structure
Traditional LVT and SPC vinyl have the biggest difference due to the structure of each plank. Vinyl flooring has a simple PVC core that makes it flexible and soft. The core of SPC vinyl planks is made of stone-plastic composite material, which has a strong structure and a poor feel.
Plank Thickness
SPC vinyl floors tend to be as thick or thicker than standard LVT vinyl floors. SPC vinyl flooring is typically between 4mm and 6mm, while traditional LVT is 4mm or less.
Robustness
This is another notable difference brought about by the core construction. Vinyl floors do not add support underfoot. The SPC vinyl feels important under your feet and also resists dents and scuffs.
Appearance
While digital imaging has been improved across the board, each plank will look and feel very different. SPC vinyl has a realistic look, possible texture and a denser feel. Traditional vinyls may have a realistic look, but they tend not to be as advanced as SPC vinyl.
Subfloors
Both traditional LVT and SPC vinyl can be installed over plywood, concrete and existing floors, but traditional vinyl floors will not tolerate any subfloor imperfections. If you have any dents or protrusions, a traditional LVT will take that shape. In this sense, SPC vinyl does not deform as easily as traditional vinyl.
INSTALLATION
You can find traditional LVT planks installed with glue, loose lay, or click and lock. The SPC vinyl on the market will be a floating click lock, tongue and groove system, perfect for DIY.
Dent Resistance
Traditional LVT floors are soft and pliable, which means that heavy furniture can easily dent the material. SPC vinyl is more resilient when it comes to dents and abuse. For this reason, it's an excellent choice for commercial settings.
Price
SPC vinyl flooring is one of the more affordable options in the rigid core category, however, it is still generally more expensive than traditional LVT flooring.
---
Trioflor manufacture both SPC flooring and LVT flooring.
Enjoy shopping from a wide variety of vinyl flooring in our collection.