Dec. 27, 2021
Renovating a home has never been an activity without acronyms. From GFCI to CFL to VOC, homeowners need to know a variety of three- or four-letter terms in order to make informed decisions throughout the remodeling process.

Choosing flooring is no exception! Thanks to today's well-designed luxury vinyl flooring options, it's hard to go wrong. That said, we think it's important for buyers to know exactly which flooring material is right for their situation - and that means becoming familiar with some flooring acronyms.
Interested in installing ultra-durable vinyl plank flooring, hardcore flooring, or waterproof, water-resistant flooring? Then, you need to understand the difference between WPC and SPC construction terms before you start making color and design choices.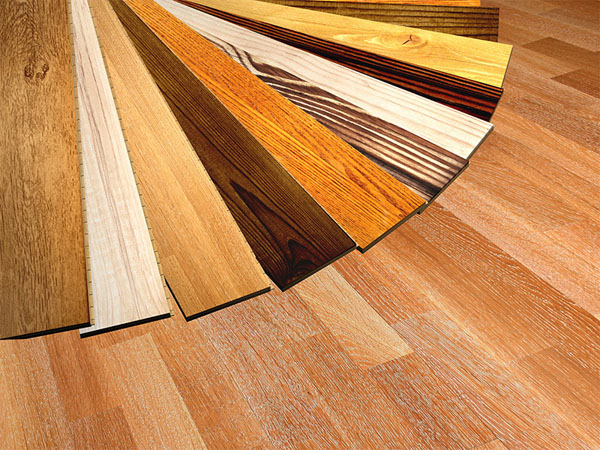 What is Rigid Core Flooring?
Rigid Core Flooring is the innovative vinyl flooring for today's demanding consumers. Available in both plank and tile shapes, it is a luxurious material that can withstand a lot of abuse, including water.
To understand Rigid Core, you must look beyond the vinyl flooring you are familiar with. Standard vinyl flooring is a fairly thin, flexible material that sticks to the subfloor. Rigid core is harder, thicker and stronger, which gives it some unique advantages. One of its most highly touted benefits is its ability to handle water, but that's not the only check in the "professional" column. It can also handle subfloor imperfections, providing excellent sound insulation and superior underfoot comfort.
This is where we use the technical terminology: the various benefits of vinyl plank flooring (or vinyl tile) depend on whether you use WPC or SPC construction.
How do WPC and SPC work
Like engineered hardwood, luxury vinyl plank flooring is made from multiple layers of material - usually four, but that can vary between manufacturers. Let's look at the different layers, starting with the surface.
Layer 1 is the wear layer. It is clear, durable and scratch-resistant.
Layer 2 is the vinyl base layer, which consists of multiple compressed vinyl base layers. This layer helps apply true embossing techniques to the printed decorative film located between the wear layer and this vinyl base layer.
Layer 3 is the rigid core layer. It is made of wood-plastic composite (WPC) or stone-plastic composite, also known as solid polymer core (SPC).
Layer 4 is the base layer. This is the bottom of the wood panel or tile and is usually made of foam or cork.
Many WPC and SPC options also have an additional mat (padding layer) that provides sound absorption and allows for a heating system under the floor.
What is WPC?
Wood Plastic Composite or WPC flooring is a vinyl plank or vinyl tile flooring with a hard core made of recycled wood pulp and a plastic or polymer composite that expands through the air. It is sometimes referred to as "wood-polymer composite flooring". It is a lightweight, low-density structure that is warm and soft underfoot for greater comfort.

What is SPC?
Stone composite, solid polymer core or SPC flooring is a vinyl flooring material with a rigid core made of powdered limestone, polyvinyl chloride and stabilizers. Sometimes you may see it referred to as "stone polymer composite flooring". It is dense, dimensionally stable, quiet and strong.
What is the main difference between WPC and SPC vinyl flooring?
The essential difference between WPC and SPC flooring comes down to the density of the rigid core layer.
Stone is denser than wood, which sounds more confusing than it actually is. All you need to do as a shopper is to consider the difference between a tree and a piece of stone. Which has more give? The tree. Which one can take a pounding? The rock.
Here's how that translates to flooring:
WPC consists of a thicker and lighter rigid core layer than the SPC core. It's softer underfoot, which makes it more comfortable to stand or walk on for long periods of time. Its thickness gives it a warm feel and absorbs sound well.
SPC consists of a rigid core layer that is thinner, more compact and denser than WPC. This compactness makes it less likely to expand or contract during extreme temperature fluctuations, which increases the stability and longevity of the floor. It is also more durable in terms of impact.
When to choose WPC or SPC flooring for your home
Depending on where you plan to lay your new flooring, choosing the right construction can make a big difference. The following are some common situations where it makes sense to choose one type of flooring over another.
Creating a second level of living space over an unheated area (such as a basement)? Use WPC, which will better isolate your room. Choose a WPC with additional padding for added warmth.
Building a home gym? Choose an SPC so you don't have to worry about weightlessness. Finishing a sunroom? SPC performs better in spaces that are not heated or cooled, such as a three-season room. Creating a studio? WPC is more comfortable if you're on your feet for long periods of time. If you're worried about dents from dropped tools, SPC will give you more peace of mind.
Renovating a multi-story home, WPC will help minimize sound spillage between floors. Again, there are many options with additional padding to add sound absorption.
Waterproof Flooring: Things to Remember
While you're looking for luxury vinyl plank and vinyl tile options, you may also come across many waterproof flooring options. While WPC and SPC flooring is waterproof, you still need to properly care for and maintain these types of flooring to make the most of them.
The term "waterproof flooring" means that these floors are well protected from spills and splashes. Regardless of what the flooring is made of, you should never allow water (or any other liquid) to pool or accumulate on the floor. This can lead to permanent damage and, in some cases, can void your flooring warranty. The best approach is to always clean up water quickly and address structural issues that cause leaks or pooling as soon as possible.
Pro Tip: Consult an experienced flooring expert to help you find the best quality waterproof flooring for your needs.