Aug. 20, 2021
cis a great option for those who prefer to keep the time they spend cleaning and maintaining their flooring to a minimum. Just follow straightforward cleaning method and simple maintenance tips to keep your vinyl flooring looking as good as new well into the future. If You don't know how to clean and maintain your Vinyl flooring, keep reading. And as a flooring supplier, I'd like to introduce it to you.

---
How to clean vinyl flooring?
1. Before cleaning, please make sure you know if your vinyl floor has wax finish. Wax-free vinyl has a polyurethane coating to make it glow, and wax-based cleaners cannot adhere to the coating properly, making your floor look dirty.
2. Clean the vinyl floor with a broom, microfiber mop or a vacuum cleaner with a hard floor attachment every day. You should also remember to clean under the furniture frequently. It will be easier to keep dirt and debris accumulated after they must be removed.
3. Wipe up spills immediately. All liquids, including water, can seep into the joints of vinyl flooring and cause the adhesive to loosen. So when your floor gets too wet, you should immediately cover it with a towel to remove excess moisture.
4. When dealing with wet stains, you can spray the floor with a spray bottle of water or vinyl floor cleaner, and then use different microfiber mats to mop the floor. Your floor should dry in a few minutes.
5. If you need to remove dry stains, do not use steel wool or hard brushes on vinyl floors. A soft nylon brush and appropriate cleaning agents should remove most stains.
6. Do not use acidic, alkaline, or abrasive cleaners on vinyl floors, as they will damage the polyethylene or wax coating of the sealed floor.
7. In addition, avoid using oily soaps, as they will cause soap scum to accumulate on the floor, which looks bad, is difficult to remove, and makes it more difficult to apply maintenance coatings.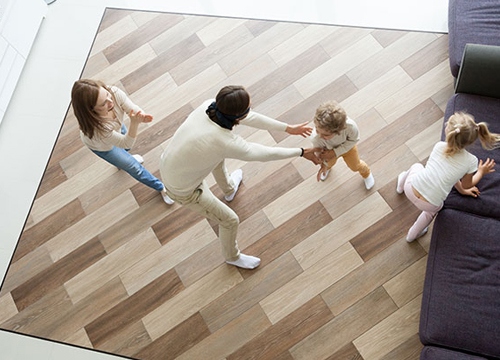 LVT Flooring
---
Vinyl Flooring Maintenance Tips
1. Premature contact and cleaning will adversely affect the curing process of vinyl adhesives. So please consult your vinyl installer to find out how long you can walk and clean the vinyl floor after installation.
2. Place non-fading floor mats in high-traffic areas to prevent dirt, moisture and chemicals from contacting your vinyl floor.
3. Never use steam cleaners on vinyl floors. They force steam into the vinyl joints evenly, and over time dissolve the adhesive underneath, lifting and loosening it. If your vinyl floor has bubbles or starts to curl, please find a professional to repair it as soon as possible.
4. Develop a shoe removal policy to reduce the amount of dirt and grit in contact with the floor.
5. Use a floor mat between the rolling chair and the vinyl floor to protect the floor from damage.
6. Use floor protectors under all furniture and always lift them off the ground when moving furniture. Never drag furniture over vinyl floors. If you have to move items that are too heavy to carry, place the plywood along the route you want to carry before pushing them out.
7. Direct sunlight will cause the color of the vinyl floor to fade, so close the curtains or blinds when you are not using the room to protect your floor investment.
8. If you find that the seam on the vinyl floor has opened, you must immediately reseal it in accordance with the manufacturer's guidelines to prevent further damage.
LVT Flooring
LVT flooring is a kind of high quality decorative vinyl flooring, as high-tech research developed, new-type ground material, which is usually used in domestic and commercial areas. LVT is mainly made of polyethylene and calcium carbonate with certain percentage. Polyethylene is environmentally non-toxic renewable resource. All the ingredients are non-toxic, non-radioactive and eco-friendly.
Trioflor is a professional vinyl flooring manufacturer integrating production, research and sales. And we have the LVT flooring for sale, and if you want to learn more about our products, please contact us!