Sep. 07, 2022
SPC floor, WPC floor, and LVT are three types of popular flooring. Here, we'll break down an in-depth comparison of each type to help you determine which kind will best fit your needs.
Traditional LVT has been a popular flooring option for years. As consumers continue to demand affordable, waterproof, aesthetically pleasing flooring solutions, a host of advanced flooring options — such as rigid core vinyls like WPC or SPC — are hitting the market.
When comparing traditional LVT with options such as SPC or WPC vinyl, there are several key similarities and differences to take into consideration. To learn more about how these flooring options differ from one another, it is first important to understand what each type is.
What Is LVT Flooring?
LVT (Luxury Vinyl Tile) is an innovative, updated version of vinyl flooring. Its realistic designs mimic the look of real wood, ceramic, or stone flooring while still being affordable.
What Is SPC Flooring?
SPC flooring looks and feels almost identical to LVT, with many of the same timeless designs, only it's harder-wearing and has an improved click-fit system. Each panel just slots into the next, just like cladding.
Compared to traditional 'on a roll' vinyl flooring, SPC will last a life-time as it is a sturdy panel-based flooring, a little like laminate but with a softer feel underfoot.
SPC is 100% waterproof when fitted correctly and it has its own built-in underlay. There's almost zero-waste with SPC too, when compared to fitting vinyl from a roll.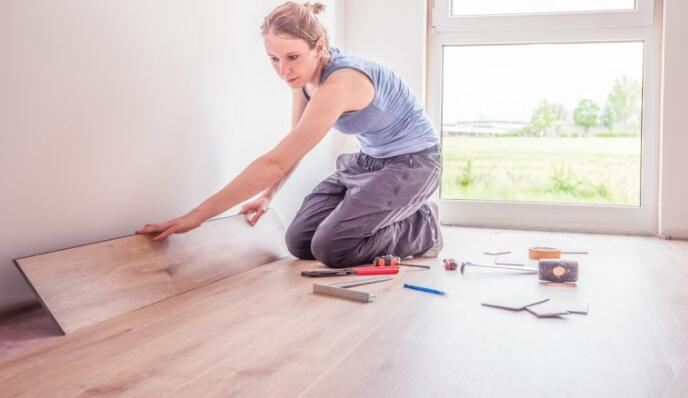 What is WPC Flooring?
WPC (Wood Plastic Composite) features a core typically composed of polyvinyl chloride, a foaming agent, calcium carbonate, wood-like or actual wood materials such as wood flour, and plasticisers.
Originally named for the wood-like materials it is made from, WPC floors are becoming an increasingly popular option for replacing various wood materials with wood-like plasticisers.
Which Option is Best for You?
| | | | |
| --- | --- | --- | --- |
| | WPC | SPC | LVT |
| Fade Resistance | Moderate | Moderate | Moderate |
| Wear Resistance | High | High | High |
| Stain Resistance | Moderate | Moderate | Moderate |
| Dent Resistance | Moderate | High | Low |
| Scratch Resistance | High | High | Moderate |
| Moisture Resistance | High | High | High |
| Care | Easy | Easy | Easy |
| Installation | DIY Friendly | DIY Friendly | DIY Friendly |
An In-Depth Look at WPC vs SPC vs LVT Flooring
Let's take a look at 15 of the differences and similarities between WPC, SPC, and LVT vinyl flooring.
1. Structure
All three of these flooring types feature layers, but the layers can vary between types. SPC floors, for example, have a core layer comprised of Calcium powder, a stabiliser, and PVC powder. LVT consists of a UV coating — to protect the floor's colours, wear layer and decor layer.
WPC floors feature a core layer consisting of a LVT layer and a foaming agent. LVT core layer is comprised of Calcium powder, PVC powder and plasticiser.
2. Construction
The construction of LVT and WPC vinyl is the most significant difference between these two vinyl types.
Vinyl floors have a basic PVC core that make it a rubber product, meaning it can flex and move easily. WPC vinyl is more solid and stable due to its wood-plastic composite core.
3. Plank Thickness
WPC vinyl floors are thicker than standard LVT vinyl. Whereas traditional LVT is typically 4mm or less, WPC vinyl flooring ranges from 5mm to 8mm thick.
WPC vinyl floors often tend to run thicker than standard SPC vinyl that tends to stay between 4mm to 6mm thick.
4. Waterproof
All three types of these floors — SPC, LVT, and WPC — are waterproof, making them excellent choices for use in bathrooms or kitchens.
5. Subfloor
Traditional vinyl is thin and flexible, making it more at risk of subfloor imperfections. With WPC vinyl, the thicker planks help compensate for the majority of minor subfloor imperfections.
6. Sturdiness
Due to differences in the core materials, SPC tends to be the most dimensionally stable of these options. The sturdiness also helps the floor feel softer and increases its defenses against wear and dents.
7. Appearance
WPC and SPC vinyl flooring are produced using the latest digital imaging technology, lending them a realistic appearance that mimics the look and feel of stone tiles and real timber. Both WPC and SPC vinyls can be found in a variety of textures, colours, and styles.
Traditional LVT floors tend to project a look and feel that is expected of vinyl due to its thin plank structure. This is especially true of budget LVT options.
8. Environmentally Friendly
LVT and WPC floors both utilise plasticiser in their formulation (not exactly environmentally friendly).
If being considerate of the environment is at the top of your list, SPC might be a strong contender. It also does not contain any glue, making it a great option for kids or pets.
9. Comfort Under Foot
Due to the construction of the rigid cores, the WPC vinyl will feel softer underfoot than LVT or SPC vinyl. This is also a result of a foaming agent used in the core that gives it added cushioning.
Traditional LVT vinyl tends to be thinner and lacking in support. Adding underlayments can help LVT floors feel thicker and softer.
Consisting mostly of limestone, fillers, and adhering agents, SPC vinyl floors offer a more sturdy feel underfoot. An underlayment can be added to help your SPC vinyl flooring feel softer when you walk on it.
10. Dent Resistance
Traditional LVT floors are pliable and soft, making them an easy target for dents from heavy furniture.
Thanks to its rigid core construction, a WPC vinyl is less likely to dent. However, it is still a softer flooring that is not entirely safe from the threat of dents.
Comprised primarily of stone, SPC vinyl features superior resistance to dents compared to LVT and WPC vinyl. This makes SPC vinyl a top contender for commercial applications or areas of high foot traffic.
11. Installation
Any of these flooring options feature DIY potential. LVT planks can often be found with click-lock installation, glue down, or loose lay.
Most WPC or SPC vinyls feature a DIY click and lock system consisting of a tongue and groove construction that eliminates the need for nails or glues.
12. Price
Traditional LVT flooring is often the least expensive option amongst these types.
If you are looking for a more substantial option, the extra cost per square metre might be worth it for SPC or WPC vinyl. Often, WPC vinyl runs the most expensive.
Regardless of the type you choose, special wear layers, attached underlayments, or additional features can increase the final cost.
13. Maintenance and Cleaning
Cleaning and maintenance is simple with WPC, SPC, and LVT flooring. All it takes to maintain great looking floors is regular sweeping and an occasional deep clean.
14. Temperature Fluctuations
If temperature fluctuations are a concern, SPC vinyl will offer superior performance compared to WPC or LVT flooring.
The dense structure of SPC vinyl's core construction makes it less susceptible to movement.
15. Application Area
Like most vinyl flooring, WPC and SPC vinyl can be installed above, and on grade. They can also be installed in wet areas, such as bathrooms and kitchens, as well as commercial spaces.
Generally, WPC Floor is more suitable in a residential area while SPC vinyl is well suited for commercial applications.
Because of its rigid core construction, WPC floor has an advantage for hiding subfloor imperfections. Whereas a traditional solid-locking LVT or glue-down LVT may transfer any unevenness from the subfloor to the surface, WPC flooring can be used over cracks or divots in wooden or concrete subfloors.
Need Further Help?
We hope that after reading this article you will know which kind of flooring suits your requirements.
If you have further questions or would like additional advice on WPC, SPC, or LVT flooring, please feel free to contact us.