Nov. 15, 2021
When choosing vinyl flooring, it's important to choose a color that suits your home and your personal style. Consider these helpful tips for choosing a flooring color in your home.
Overall Appearance
If your room already has eye-catching wallpaper, paint or furniture, make sure you choose the right color for your new flooring to match the uniform look. For example, if your room already has furniture or wallpaper in a pattern or design that includes multiple colors, choosing solid vinyl flooring that matches but doesn't clash with your existing features is perfect. If your furniture or walls are solid colors, choose vinyl flooring that has multiple colors but still matches to mix things up. This will give the room a style all its own. If you're decorating a room where you like to relax, such as your bedroom or den, dark and neutral colored flooring helps amplify the laid-back feel for the ultimate in comfort.
If you want your room (such as a kitchen) to have a more open feel, light vinyl flooring with patterns is the perfect choice.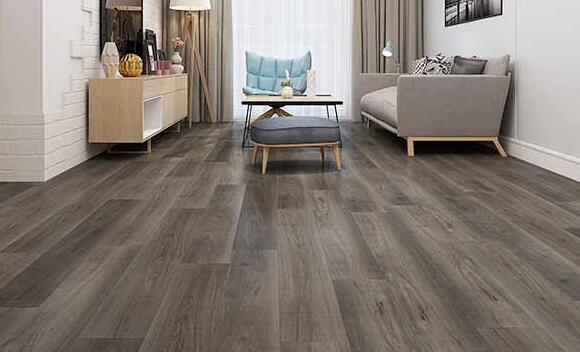 Room Size
The size of the room where you plan to place your vinyl flooring is important, especially when it comes to choosing the right color. If you decide to place vinyl flooring in a spacious open space and want the room to feel more enclosed and personalized, choose a darker color. This will make the room feel smaller and more intimate. Colors such as black or vinyl flooring with a darker wood look can be perfect for achieving this effect. If you choose vinyl for smaller, narrower areas, choosing lighter and natural tones will have the opposite effect of darker colors, as opening up the room to look larger. By using light blues, beige or creams, you can easily create a larger, more welcoming space.
Make it match
Even though you may like a dark color, placing it on the floor of any given room may not give it the look or feel you want to achieve. Consider the room you're flooring and the colors that already exist. Don't base your flooring color on an empty room, but first, get an idea of what will match the wall color and furniture. Consider what you want to place in the room and then have your flooring color reflect the existing décor. Be sure to match any borders or molding in the room. Whether dark or light, choosing the opposite for your flooring can create a nice contrast for an elegant look. You may also want to consider whether your flooring receives a lot of natural sunlight or artificial light in the room. Vinyl can look different or have a different color in natural sunlight, while artificial may not bring out the brighter, more prominent features within the floor. Light brown may look red in sunlight, so be sure to consider both lighting options.
If you're still having trouble choosing, contact one of our professionals and we can help you determine which color is best for your personal space.