Jan. 26, 2021
Luxury vinyl flooring is used throughout different industries including multi-family housing or retail, as well as geographical locations, meaning it is subjected to many different climates and conditions. No matter where your installation is – whether it be a warmer location like Florida or (at times) bone-chilling cold in Chicago, there are certain recommended guidelines you should follow.
When working in particularly hot and humid areas, there are important steps you should take before, during and after installation to prolong the life of your LVT flooring. The following details best practices for installing TRIOFLOR glue down luxury vinyl; for best results, always consult your manufacturer's installation guidelines.
*A disclaimer: For any installation of TRIOFLOR flooring, TRIOFLOR always recommends hiring a professional flooring installer who is trained and experienced in current techniques and industry-accepted standards for professional installation of luxury vinyl flooring and surfaces.
Before & During Installation
Before installation in a humid climate, it is imperative to store your luxury vinyl products in a dry, temperature-controlled interior environment. For TRIOFLOR products, between 65°F and 80°F — the relative humidity (RH) of the space should be controlled and maintained between 30% and 70% RH.
It is the responsibility of the installing party, a professional flooring installer, to determine the porosity of the subfloor being covered. Flooring manufacturers should have a comprehensive guide for porosity testing that works best with their products. The results of this test will determine the type and recommended amount of adhesive required for the job.
Other pre-installation tests required for flooring used in hot climates are the Moisture Vapor and pH testing. These tests are needed for installing on a concrete substrate, or if the flooring will be installed over a radiant heated floor. The flooring technical specifications should outline best practices for these subfloor options.
TRIOFLOR LVT, and LVT in general, should only be installed in an environment that is climate controlled. Flooring materials and adhesives must be acclimated to the installation area for a minimum of 24-48 hours prior to starting the installation to ensure their proper performance.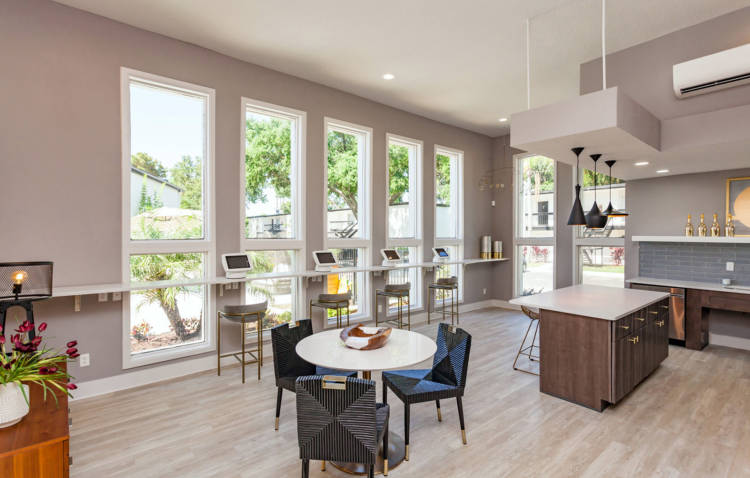 The area to receive the flooring must be fully enclosed, weather tight, with the permanent HVAC system set, and maintained at a minimum temperature of 65°F for a minimum of 48 hours before, during and after installation. Ideally, the permanent HVAC should be operational and running continuously three weeks prior to installation to climatize the environment.
Proper Adhesives for Hot & Humid Climates
For any new flooring installation, choosing the right adhesive is of the utmost importance. Each flooring manufacturer has a variety of recommended adhesives for certain environments. Some adhesives are pressure-sensitive, meaning if the LVT contracts or expands due to a drastic shift in temperature – like in a hot or humid climate – the adhesive is likely not to shift.
TRIOFLOR flooring offers a pressure-sensitive adhesive with a water-resistant bond, Universal, that guarantees up to 99% RH when used in new construction and up to 95% RH for use in pre-existing buildings. Choosing the right adhesive for your project will depend on multiple factors surrounding the space you're installing in — for TRIOFLOR products, consult your TRIOFLOR representative to choose the right adhesive.
Post-Installation Care
After your flooring is installed and ready to go, make sure the room temperature does not fall below 55°F or exceed 100°F. Failure to control the interior environment can affect the performance of the flooring and adhesives. No matter the climate, maintaining the temperature at all times, even when the building is not occupied, will prolong the life of the flooring.
Do not machine or auto scrub, or attempt to strip the newly installed flooring until the adhesive is fully cured, approximately 5-7 days. As is the case with any LVT product, attend to moisture exposure and spills in a timely manner. Clean-up with luxury vinyl products is a breeze, so maintenance won't take too much time or energy.
Large windows, a logical choice for different climate types, can produce intense UV light and thermal expansion from magnified solar heat. Some glass is tinted or designed to effectively block or minimize UV damage. If such window types are not among the space, it is recommended to use shade or blind protection during the sunniest or hottest part of the day.
One way TRIOFLOR LVT stands apart from other luxury vinyl products is in the way it's manufactured. Our process is engineered to make the LVT more dimensionally stable in all environments. Our manufacturing method applies high heat and pressure to multiple layers of backing, essentially fusing them together. The joining of these layers creates a tighter bond providing a more stable product that is less prone to reshaping and resizing.
If you have any questions about LVT flooring and installation in a hot or humid climate, or would like to learn more about TRIOFLOR luxury vinyl or engineered surfaces, please contact us. We also have samples available to order complimentary to help in the design process for your next project.